iDEA Growth Power Lunch 2022
Tune in to the Power Lunch Summit Webinar Series!
Presented to you by iDEA in partnership with GeoComply. This webinar series highlights three prominent discussion points in iGaming and online sports betting.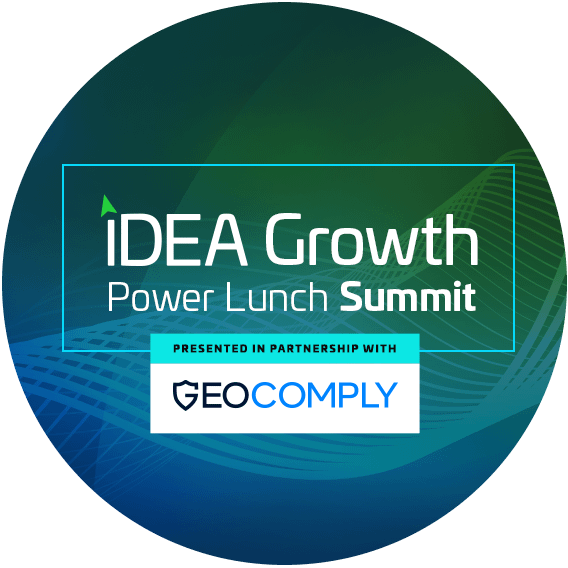 Panel 1
Winning the war against illegal online gambling sites
Tuesday, September 20, 2022 at 12PM EST (9AM PST)
Illegal online gambling sites have been fully entrenched in the marketplace long before states began legalizing iGaming and online sports betting. While legal, regulated online gaming brings an arsenal of benefits — including tax revenue, jobs, responsible gaming practices that protect consumers, and innovative technology — legal iGaming and sports betting sites are still outgunned on the battlefield.
In this session, senior executives from leading industry organizations share what regulators and state legislators can do to give legal online gambling an edge in the war against its well-capitalized, offshore foe. They will also discuss how raising consumer awareness on the difference between illegal and legal iGaming and sports betting sites support this effort.
Amy Knapp
Executive Director, iDEA
(Moderator)
Roy Pollitt
(Former) Head of Regulatory Affairs, DraftKings; Head of Investigations, Exiger
(Speaker)
Jonathan Michaels
Sr. VP of Strategic Development and Government Affairs, Sightline
(Speaker)
Danny DiRienzo
Sr. Director, Government Relations, GeoComply
(Speaker)
Panel 2
The Case for Legal iGaming in your State
Wednesday, September 21, 2022 at 12PM EST (9AM PST)
Wondering what legal iGaming would look like in your state? Join this panel of experienced legislators and regulators from states that took the leap to legalize and regulate iGaming as they share lessons learned. The discussion will cover everything from revenue regulation to implementing responsible gaming initiatives, along with tips, insights, what works, and what doesn't in creating a legal landscape for online gaming.
Luisa Wood
VP Marketing – Gaming and Entertainment, Delaware North
(Moderator)
Laura Burd
US Regulatory Affairs & Compliance Director, 888
(Speaker)
Henry Williams
Executive Director, Michigan Gaming Control Board
(Speaker)
Senator Curtis Hertel Jr
Michigan State Senator
(Speaker)
Panel 3
M&A Forecast 2023
Thursday, September 22, 2022 at 12PM EST (9AM PST)
In the past few years, mergers and acquisitions in the online gaming industry are practically a weekly occurrence. Horizontal mergers, vertical integrations, consolidations, and acquisitions have been fueled by the increased number of states legalizing sports betting. But activity appears to have slowed recently. Will that change? In this panel, industry leaders will discuss how the market, valuation concerns, the economy and regulations may impact M&A activity in the coming year.
Michelle Cohen
Partner, Ifrah Law
(Moderator)
Melvin Ike
Managing Director, The Blackstone Group
(Speaker)
Andrew Fabian
Investment Banker, Citi
(Speaker)
Jeff Ifrah
General Counsel, iDEA Growth
(Speaker)