Did you know that there are currently 4.4 billion internet users in the world? And even more incredible, since January 2018, 366 million more people have joined the internet – that's a 9% increase in just one year! (Digital 2019 Reports by Hootsuite & We Are Social)
The key drivers in this surge of internet users are coming from the emerging markets, India in particular. And one immediate impact is that users are leaving traditional ways of watching TV and embracing online streaming, with the over-the-top (OTT) market experiencing unparalleled growth worldwide. In its 2019 report, PricewaterhouseCoopers (PwC) predicts that the global OTT streaming revenues will reach US$72B by 2023.
A recent article in Quartz India provides details on the growth of India's online entertainment market. India's OTT market is predicted to nearly triple in size by 2023 and is contributing significantly to the industry's global revenue growth. As shown by the graph below, India is predicted to out-pace the compound annual growth rate (CAGR) of the rest of the world between 2018 and 2023.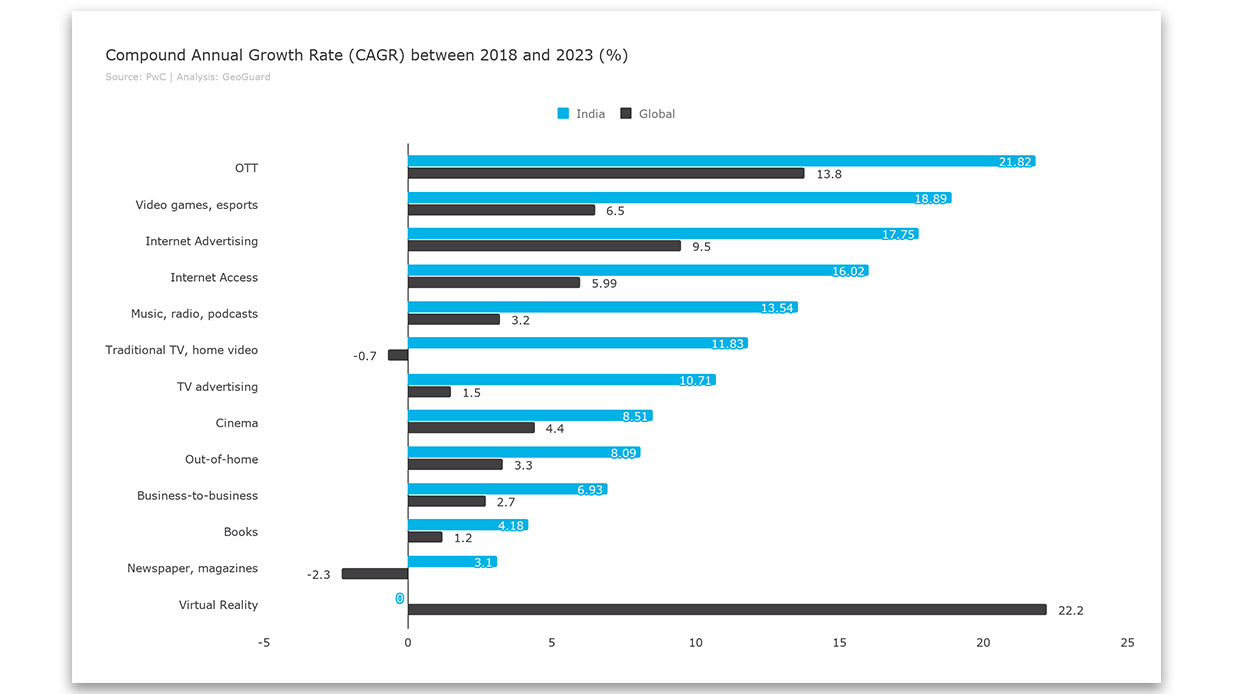 Moreover, the PwC report predicts that India's OTT revenue will hit US$1.8B by 2023.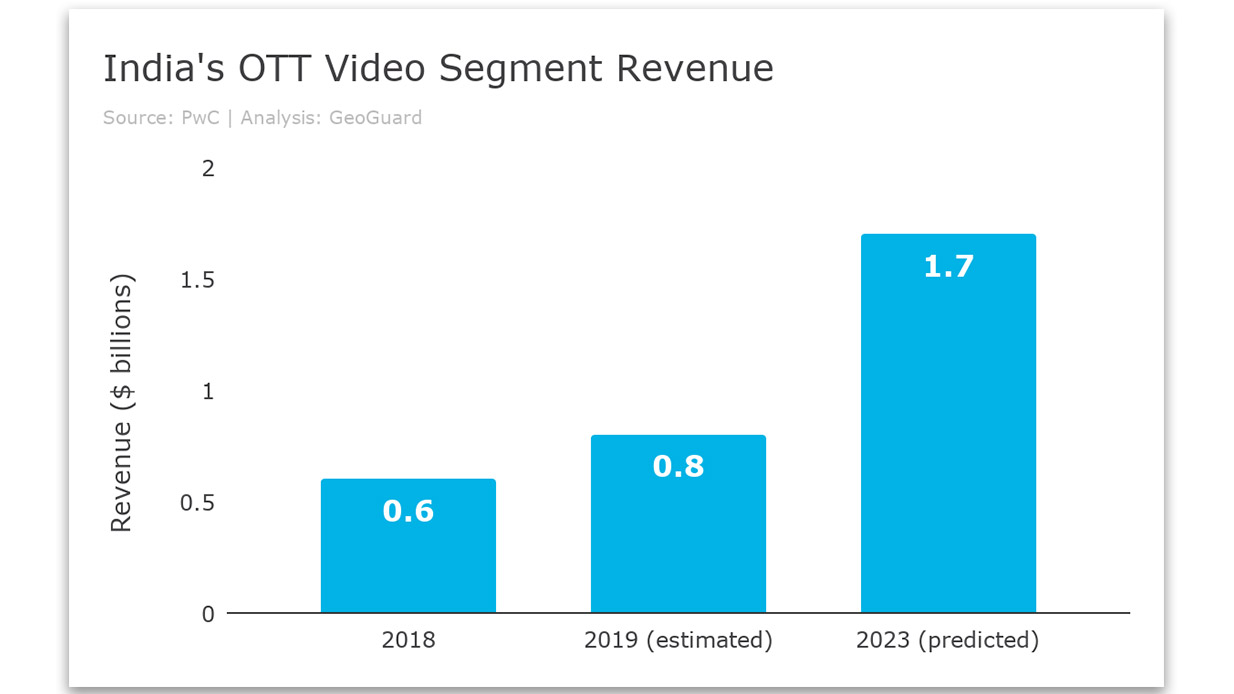 Due to India's enormous growth potential, OTT broadcasters are racing for the chance to grab a piece of its market. However, there's a catch. Media rightsholders or content owners typically rely on a territorially based pricing model when they licence their content to OTT broadcasters. Therefore, the value of their content and the amount they can charge their OTT broadcasters are largely based on the region they are operating in.
For example, to watch La Liga (Spanish First Division Soccer) in India, users can subscribe to OTT Sony Liv, which live streams sports. This costs a subscriber $1.89 CAD per month. Contrastingly, if you want to watch La Liga in Canada, through BeIN Sports Connect, a subscription for a monthly pass costs $19.95 CAD, which is 14 times more expensive than in India!
However, the high subscription cost in Canada can be easily circumvented via geolocation fraud, whereby a user fakes their location in order to access content not available in their local country/market, or subscribe for OTT services at a lower rate than they should from their actual location. Geolocation fraud and geo-piracy impacts content value which, in turn, significantly affects the ability of studios, sports leagues and other content creators to produce content in an economically viable way.
Faking your location to access territorially restricted content is incredibly easy and can be done by virtually anyone. By simply downloading a VPN or DNS proxy application, users worldwide can fake their location by changing their IP address to appear as coming from a different country or region. This geo-piracy significantly undercuts the value of a rightsholder's content. Protecting content from geolocation fraud and geo-piracy is becoming increasingly important to safeguard the value of content and ensure that new content continues to be created.
As the market leader in geolocation fraud detection, GeoComply is an award-winning and Hollywood Studio approved solution for protecting rightsholders and OTT broadcasters from geo-piracy and geolocation fraud. GeoComply's solutions are easy to implement and our integration with Akamai CDN enables rightsholders and OTTs to "turn on" VPN and DNS Proxy detection by simply flipping a switch!
With the inevitable growth of internet users and OTT subscribers coming from emerging markets, it is essential that rightsholders and OTT broadcasters protect their content from geo-piracy.
GeoComply is here to help.