India is the world's fastest-growing internet market and with a population of 1.4 billion people, makes it an incredibly attractive market for OTT broadcasters, including Amazon and Netflix. A recent TechCrunch article compares India's local OTT services to competitors such as Prime Video and Netflix and shows that Prime Video and Netflix, which each have less than 30 million subscribers in India, are very small in comparison to one of India's largest OTTs, which has 300 million monthly active subscribers.
Some of these OTTs hold rights to a myriad of exclusive content such as live sports including the UEFA Nations League, La Liga and Serie A. As well, they also have the rights to various Hollywood blockbusters and HBO Originals.
However, due to the fact that these content creators also serve a number of other international markets, their content is priced to OTTs based on country being served, utlizing a price discrimination model. This means that content is priced exponentially cheaper in India than in other richer countries, and that the content requires geo-restrictions according to the country where the content is licensed for broadcast.
For example, subscriptions in India to watch premium live sports, such as the English Premier League, can be as cheap as $5.19 USD per year, which is approximately $0.44 USD per month. On the other hand, in the UK, a common way to view the English Premier League online is through Now TV, where a Sky Sport Pass sells for $42.52 USD per month.
English Premier League is 97 times cheaper via Indian OTTs!
This territory-based pricing model makes the English Premier League content 97 times cheaper through an Indian OTT! This astounding disparity between prices makes all the difference in the world to a Premier League sports fan and makes it extremely tempting for users to try to access the content by pretending to be in India, a practice known as geo-piracy.
So, what do international viewers do? They stream it as if they were in India and pay Indian prices. It's that simple.
By simply installing VPN software, a user can easily change their IP address to anywhere in the world, making it easy for users to pretend they are located someplace other than where they actually are.
In order to counter this form of geo-piracy, some Indian OTTs have implemented a simple form of protection in that only credit and debit cards from India are able to purchase the Indian subscription. This process asks for an Indian mobile number for verification purposes. Some have also implemented some basic VPN detection technology, and while our tested showed they can detect some VPNs, they were not effective against DNS proxies.
Simple VPN checks, local credit or debit cards requirements or local mobile verifications are not enough to protect OTT content from geo-piracy. Here's why.
Subscribers have found ways around the basic checks that Indian OTTs have implemented. Instead of using VPNs, users are installing DNS proxies that can also switch your location by connecting you to a DNS (Domain Name Server) that appears to be local. It should be stressed that many VPN detection services fail to identify DNS proxies.
Moreover, to circumvent the Indian credit/debit card and mobile problem, "gig economy" websites like Fiverr.com are including being utilized as the graphic below illustrates.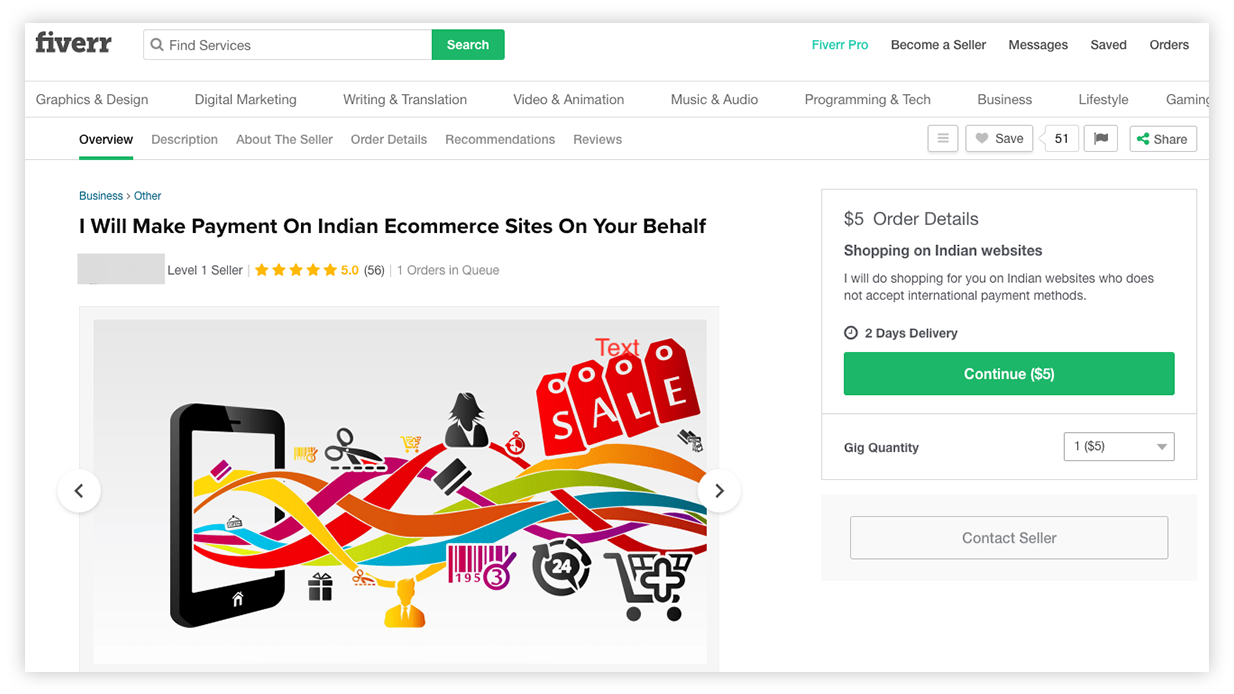 In this workaround, a user basically "hires" a seller that lives in India to arrange the Indian subscription for you as well as provide the Indian mobile verification. This service essentially enables international subscribers to pay only a couple of dollars a year to access premium live sports content such as the English Premier League. Subscribers can also use online disposable mobile SMS verification services in order to access it.
This circumvention scheme will potentially cost OTTs and its rightsholders millions of dollars in lost revenue, which in turn will affect their ability to produce premium content, whether that's movies, TV shows, or professional sports.
The only way for content owners, rightsholders and OTT broadcasters to effectively protect themselves from geo-piracy and geolocation fraud is to implement "best-of-breed" VPN and DNS Proxy detection technology.
And that's where GeoComply can help.
As a market leader in geolocation fraud detection, GeoComply is an award-winning and Hollywood Studio Approved solution for protecting rightsholders and OTTs from geo-piracy. GeoComply's solutions are easy to implement and our integration with Akamai CDN enables rightsholders and OTTs to "turn on" highly reliable and effective VPN and DNS Proxy detection by simply flipping a switch!
With the inevitable growth of global internet users and OTT subscribers, it is essential that rightsholders protect their content against geo-piracy and GeoComply is here to help.