December 20, 2022 (Vancouver, BC):
Argentina's stunning victory over France in the World Cup final emerged as the second most popular sports match of the year for bettors in the US, according to data from geolocation and fraud specialist GeoComply.
World soccer's showpiece attracted 7.9m geolocation transactions, far behind the Superbowl's 23.5m but well ahead of the 4.8m transactions of the NCAA March Madness Final and the final game of the NBA season, which attracted 5.1m geolocation checks.
Sam Basile, GeoComply VP of Business Development for North American Gaming, commented: "They say Americans don't like soccer, but they certainly got a kick out of betting on the World Cup. GeoComply's data disproves the myth that Americans are not interested in The Beautiful Game."
The 1.7m active users betting on the World Cup final was the second highest of showcase finals, after the Superbowl's 3.1m, but well ahead of the two basketball finals and the NHL Stanley Cup final.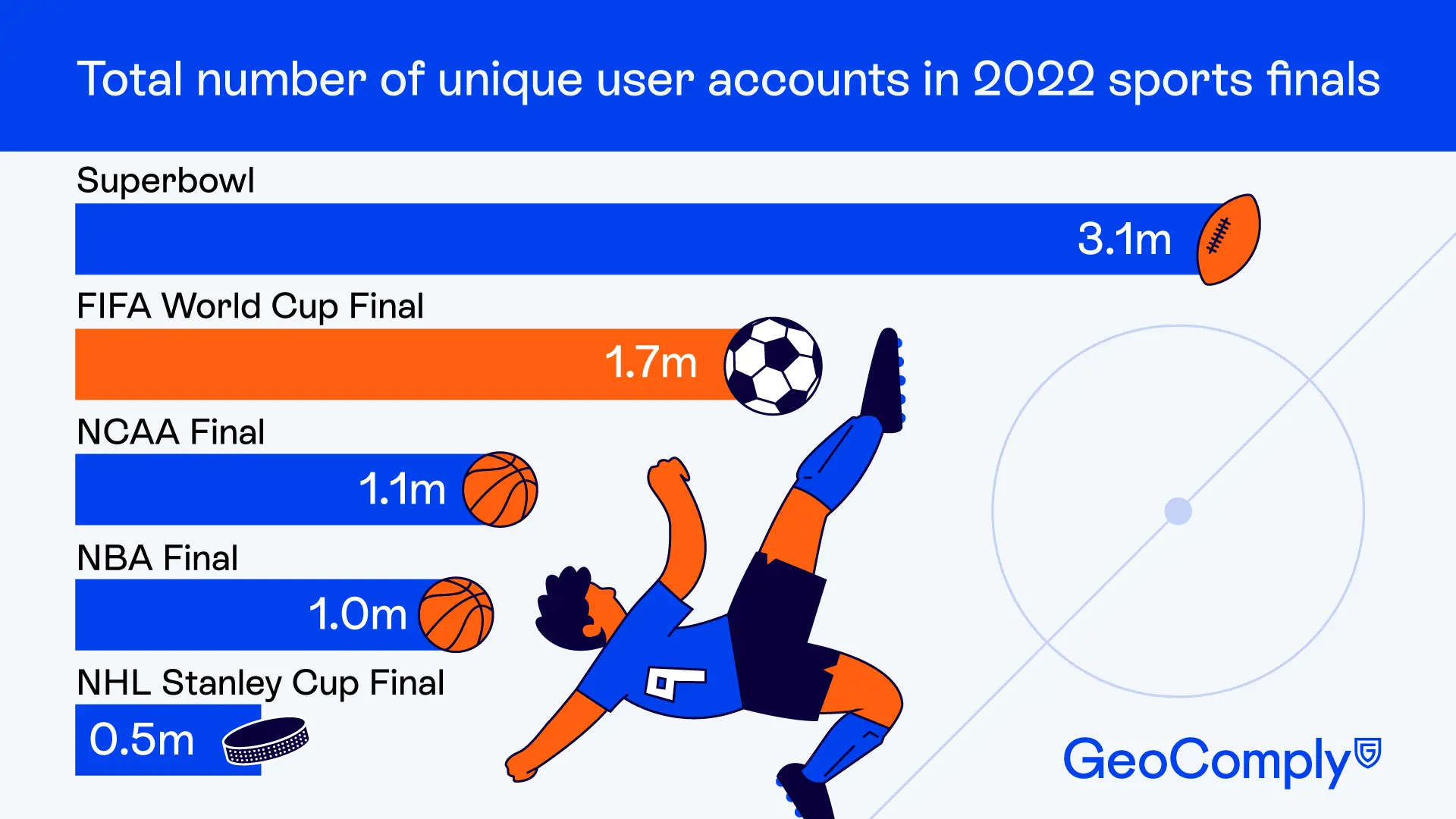 This is the first FIFA World CupTM with regulated online sports betting available in the US, following the repeal of the Professional and Amateur Sports Protection Act (PASPA) in 2018, giving Americans the opportunity to bet online with legal, regulated operators rather than unregulated offshore bookmakers.
It is also the first World Cup featuring the USA and Canada teams, which will host the next World Cup with Mexico in 2026. Qatar 2022 did a great job of generating interest in soccer in North America, with around 1m new accounts created during the tournament.
GeoComply has a unique view of the US online sports betting market as the trusted geolocation supplier for the majority of the regulated online sports betting operators in the US. Read GeoComply's in-depth analysis of World Cup betting patterns here.
About GeoComply Solutions Inc.
GeoComply provides fraud prevention and cybersecurity solutions that detect location fraud and help verify a user's true digital identity. Trusted by leading brands and regulators for the past 10 years, the company's geolocation solutions are installed on over 400 million devices and analyze over 9 billion transactions a year.
Our award-winning products are based on the technologies developed for the highly regulated and complex US online gaming and sports betting market. Beyond iGaming, GeoComply provides geolocation fraud detection solutions for streaming video broadcasters and the online banking, payments and cryptocurrency industries, building an impressive list of customers, including Akamai, Amazon Prime Video, BBC, BetMGM, DraftKings, FanDuel, and Sightline.
For more information, visit www.geocomply.com/awards-and-press/ or contact: press@geocomply.com.
© 2022 GeoComply Solutions Inc. GEOCOMPLY and the GeoComply logo are trademarks of GeoComply Solutions Inc. Other names or logos mentioned herein may be the trademarks of GeoComply or their respective owners. The absence of the symbols ™️ and ® in proximity to each trademark, or at all, herein is not a disclaimer of ownership of the related trademark. All rights reserved.