For the past week, the gaming industry has celebrated the fifth Anniversary of the US Supreme Court's reversal of the Professional and Amateur Sports Protection Act, known as PASPA.
This historic decision by the highest court in the US allowed states to regulate sports betting (both retail and online). It opened the door to an era of unprecedented growth and market expansion.
Many have recounted the past five years in media interviews and at panel discussions during last week's SBC North American Summit in New Jersey. Our own Lindsay Slader, SVP of Compliance, sat with noted industry journalist Steve Ruddock to share her thoughts on the past five years and, indeed, the five before.
GeoComply has been at the forefront of this remarkable sports betting journey. As the premier geolocation supplier to the US online sports industry, our data provides a unique market view. Below are some amazing facts and figures highlighting the incredible rise of legal, regulated sports betting in the United States.
Five years of legal sports betting by numbers
25
statewide mobile sports wagering launches GeoComply has supported in the U.S.
4
states that rely on GeoComply's PinPoint on-premise technology for mobile betting
13,795,000,000+
GeoComply geolocation transactions processed
47,850,000+
user accounts verified through GeoComply's systems
$3,089,831,573*
amount of tax revenue collected by states who have legalized sports wagering

*Source: SportsHandle Sports Betting Handle and Revenue Tracker
Sustaining Reliability
Despite the incredible growth and immense pressures on our infrastructure to keep up with demand since PASPA was overturned, we have maintained a 99.99 percent up-time to ensure our clients operate without a geolocation disruption.
To maintain our reliability, we are constantly adding new technical environments and bolstering existing ones to support our customer's growth. The infrastructure we used to keep our customers compliant before 2018 has grown exponentially since the fall of PASPA. For instance, the number of servers that support our operations has increased by more than 20 times!
Growing our team to meet demand
GeoComply has been fortunate to grow alongside our customers over the past years. On May 14, 2018, we had 61 employees. Today, we are approaching a global headcount of 600 and continue to recruit. The vast majority of our new employees have been added to support our businesses technical side and provide our customers with dedicated teams.
More GeoComply facts and figures:
345 current technical staff;
Launched Fraud and Risk Services team in 2021;
Creation of a full-time field testing team that goes into markets ahead of launch to evaluate vulnerabilities and optimize data to reduce geolocation friction for end-users;
In 2019, our "NFL Season Planning Team" comprised just a handful of employees. Today, four different teams and dozens of staff are part of the planning that starts the day after the Super Bowl each year.
Helping to educate and open markets
The overturning of PASPA gave states the power to authorize and oversee sports betting. For the past five years, the GeoComply team, including our Co-Founder and CEO Anna Sainsbury, has educated lawmakers about our compliance tools and how technology plays a role in securing a legal, safe, and responsible sports betting industry.
We have proudly testified before more than two dozen state legislative bodies and have educated lawmakers and regulators in every state that has authorized sports wagering or has considered it.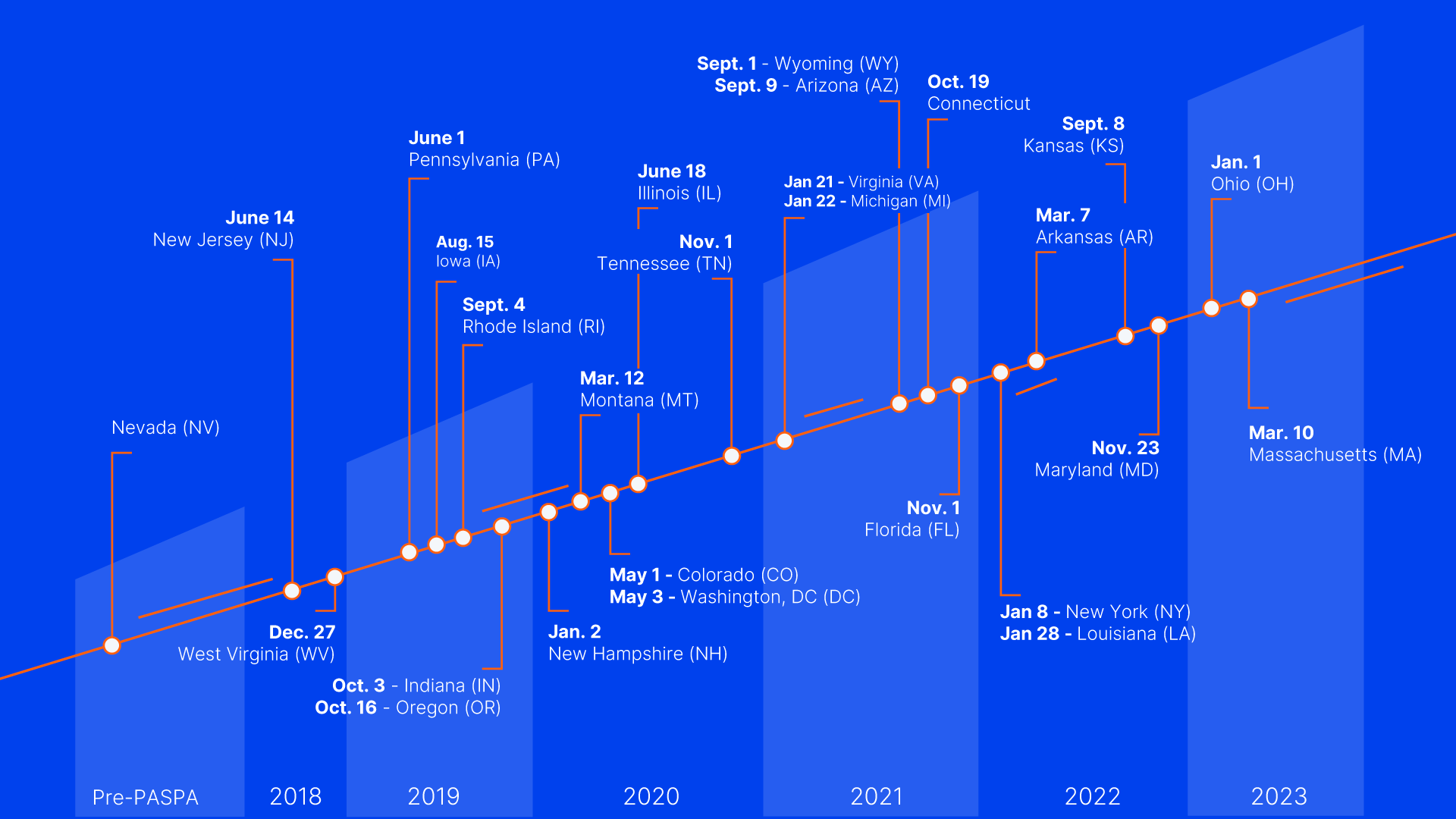 GeoComply has also stepped up its engagement with the law enforcement community. Today we host regular working groups with various law enforcement officials from more than two dozen states. These incredibly valuable sessions promote collaboration among jurisdictions to better protect consumers and the industry from fraud and abuse.
Never standing still
Our experience over the past five years has revealed ways in which GeoComply's technology can be leveraged to help our clients tackle other challenges they face. With these insights, and with the input of our clients, we created new products and services, including:
PinPoint
On-premise geolocation solution (used for casinos and sports venues) to allow mobile betting at a property when it is restricted off the property.
IDComply
All-in-one age/ID verification and AML solution. Addresses a significant pain point for operators who struggle to verify and onboard customers without friction.
GeoComply Chargeback Integrator
Another major issue for operators is addressing credit card chargebacks. GCI leverages geolocation data to provide operators with compelling evidence to dispute chargebacks, drastically reducing the cost of payments fraud.
Fraud Services
Geolocation is a crucial data point for detecting fraud and informing operators of red flags. Over the past five years, we have spent considerable energy and resources developing tools to detect fraud and let operators make informed risk mitigation decisions.
The future of sports betting
The fall of PASPA was a galvanizing moment for our industry. While it was a legal decision at its core, it has had broad positive impacts, ushering in a new era of regulatory oversight, consumer protection, and state revenues.
The future of online sports betting in the US appears to be quite promising, with two states (and likely more) already embracing legalization this year. By legalizing sports betting, states create new job opportunities, attract tourism, and generate substantial tax revenues that can be allocated toward education, infrastructure, and public services.
The legalization of sports betting has brought the industry out of the shadows and into a regulated environment, offering better consumer protection and minimizing the risks associated with illegal gambling.
Today and into the future legal sportsbooks are subject to strict regulations, ensuring transparency, fairness, and responsible gambling practices. Regulation and oversight should never be static, and we expect that over the years, the industry will add even more safeguards to protect consumers and fight fraud.
GeoComply has been delighted to be part of sports betting's incredible growth story. We look forward to working with the industry and consumers so that it will flourish for many PASPA anniversaries to come.