Legalization of mobile betting introduces new use cases for geolocation technology provider
by Matt Rybaltowski November 4, 2019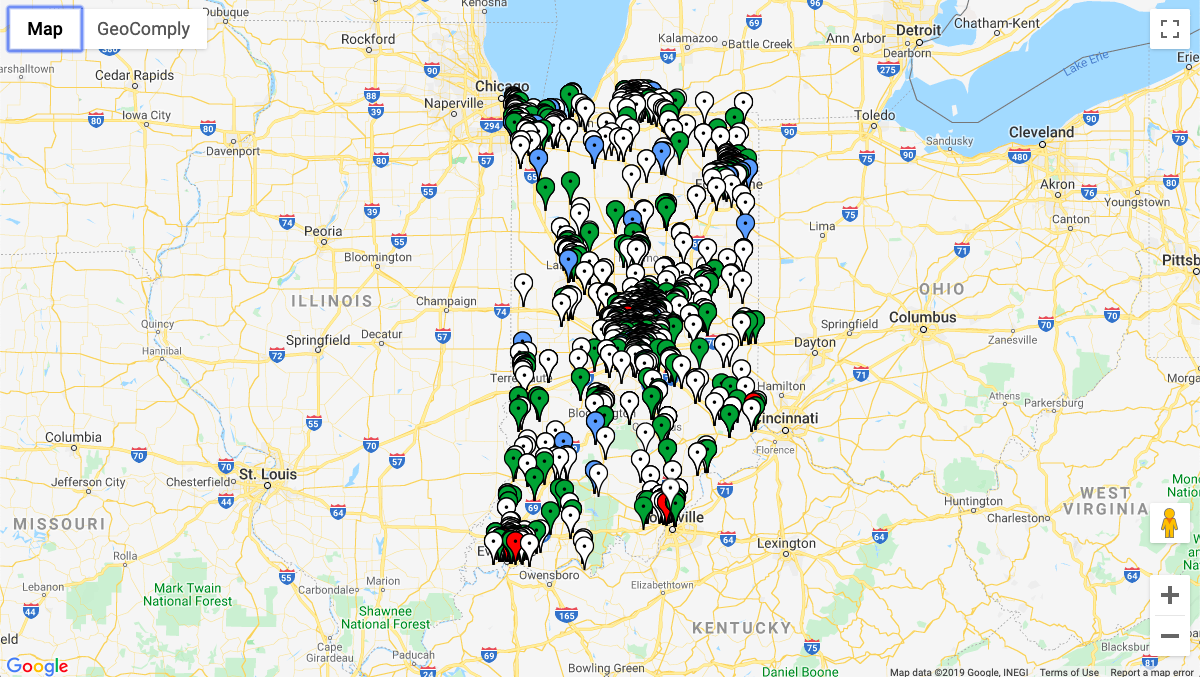 A look at the Indiana GeoComply map
As more states continue to roll out mobile sportsbook offerings, the task of geofencing areas with unique geographic features has become increasingly more difficult.
Take Oregon, for instance. While there are nine federally recognized Native American tribes in Oregon, the tribal areas amount to anywhere from 200 to 300 disparate geographic pockets of lands, said Lindsay Slader, vice president of regulatory affairs at GeoComply, a leading geolocation compliance technology provider. Although the zones are predominantly located in rural areas, some reservations are overlaid throughout highly-populated communities, she added.
At present, mobile sports betting is available to bettors through the Oregon State Lottery but outlawed on tribal lands. GeoComply, which provides geotracking services to the Oregon Lottery, faces the daunting task of restricting user access in hundreds of tribal areas around the state.
"There's no cookie-cutter model for what sports betting looks like, especially when it comes to geolocation," Slader told Sports Handle.
Player location check and border issues
When Oregon launched mobile betting in mid-October, it became the eighth state nationwide to permit online sports wagering. The Beaver State joined Indiana, Iowa, Nevada, New Jersey, Pennsylvania, Rhode Island and West Virginia as the only states across the country that offer legalized mobile sports betting. GeoComply works with gaming operators in all eight states.
GeoComply faces a litany of challenges in Oregon due to a patchwork of Native American lands throughout the state.
Slader received praise from New York State Senator Joseph Addabbo Jr. in May for GeoComply's presentation on border traffic in mobile sports betting at a closely watched Senate hearing. GeoComply's real-time anonymized data is able to track when a user from Manhattan travels across the George Washington Bridge to place a mobile wager within New Jersey state lines. At the time, FanDuel President and Chief Operating Officer Kip Levin testified that approximately 25% of the company's online wagers in New Jersey were placed by users that reside in New York. The figure has since swelled to around 30%.
Similar issues persist on the New Jersey-Pennsylvania border. Bargain hunters willing to drive a few extra miles can place their weekly football bets inside the Garden State, before returning home to Pennsylvania. A bill in Pennsylvania calls for a 36% tax rate on an operator's gross gaming revenues, 2% of which is earmarked for local taxes. A competitive landscape for mobile betting in New Jersey has enabled many operators to woo bettors with attractive promotions.
A handful of operators offer mobile betting in Pennsylvania with DraftKings next in line for online launch.
As legalized sports betting has spread to the Midwest in recent weeks, GeoComply has spread its footprint to two states in particular. While Illinois irons out the kinks with complex regulations that have delayed the launch of sports gambling, mobile betting went live in Indiana in early-October. GeoComply has the technical capabilities to track the number of bettors that cross the border to legally place wagers in the Hoosier State. For some loyal Chicago Bears fans, they face a commute of less than an hour to bet on the Monsters of the Midway. Downtown Chicago is only about 16 miles from the Indiana border.
Over the last several weeks, Slader has seen a huge volume of traffic throughout the state's Northwest corridor. Geotracking trends indicate that bettors from the Greater Chicago area are traveling to Indiana to place mobile bets at highway rest stops before returning to Illinois, she said.
Bettors can also head to several casinos near Gary, Ind., a city on the Lake Michigan shoreline with close proximity to the Wolverine State. Slader has been surprised by a large amount of activity in Indianapolis which presents a longer drive for residents in three bordering states — Illinois, Kentucky and Ohio.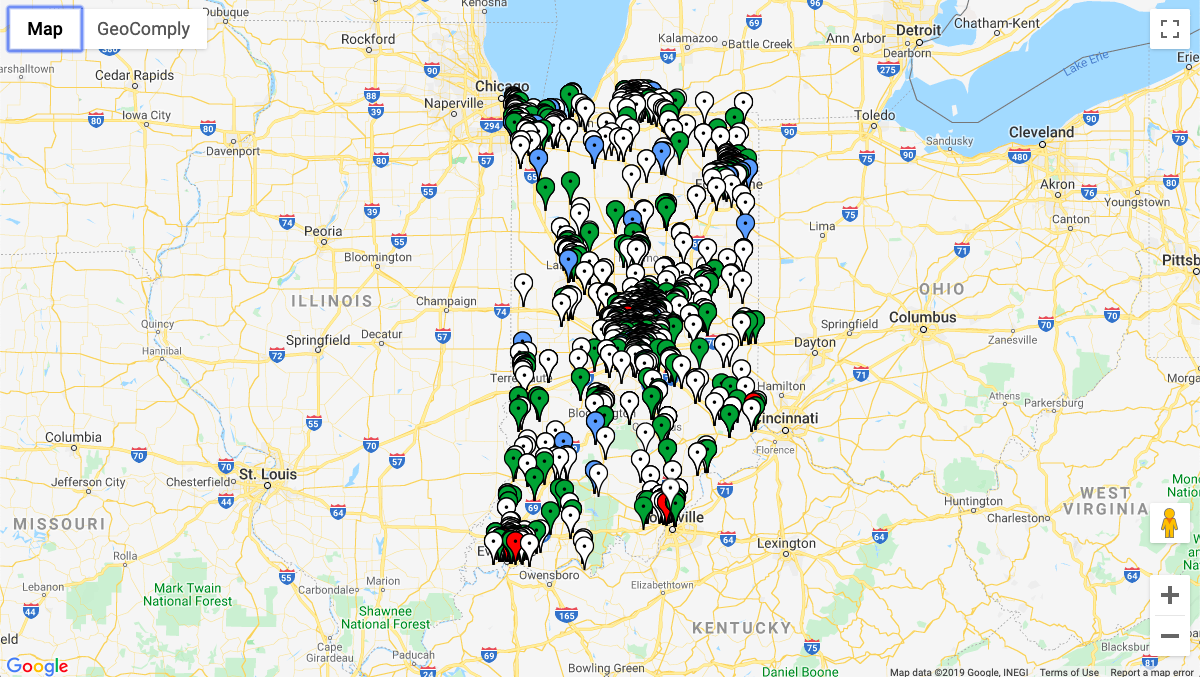 Mobile betting is off to a quick start in Indiana's Northwest corridor and the Greater Indianapolis area.
Iowa, meanwhile, presents some unique challenges due to an on-site registration requirement that requires bettors to open an account inside a physical sportsbook. (This requirement will sunset in January 2021, at which time Iowans will have the ability to register for any sportsbook remotely. ) One venue, Grand Falls Casino & Resort in Larchwood, Iowa, is located miles from the Iowa-South Dakota border.
"The parking lot is on a road that is the state line," Slader said. "We've definitely met some technical challenges."
While the white pindrops on a GeoComply map represent mobile apps from iOS devices, the green ones indicate that a user has accessed an app through an Android. Blue pindrops typically come from laptop computers, while red pins signify blocked users.
Combating fraud
From the time a user first logs onto a mobile app until he makes his first bet, GeoComply will verify a user's location. When GeoComply conducts an initial check of a user, it assumes that he or she is traveling approximately 65 miles from the nearest border, said John Pappas, an advisor to the company. As a user approaches a border, the company will recheck the user in several additional intervals to monitor their physical location. GeoComply does not have the ability to suspend a user's account, but will rather send a message to a sportsbook that the user failed a geolocation check. It is then up to the sportsbook operator to ensure that the user is logged out (i.e. to prevent a bettor from placing a wager in New York where mobile betting is illegal).
GeoComply's full suite of analytical tools also has the ability to evaluate a user's history over time. In certain cases, the system can identify whether a user is trying to outfox an operator with a spoofing device or a fake GPS app. In addition, GeoComply is able to spot patterns of suspicious activity whether it is consistent with a case of identity theft or payment fraud.
"If someone is trying maliciously to circumvent our rules or our controls over and over again we will likely put together a history of all the bread crumbs that they leave behind," Slader said. "It paints a pretty accurate picture."
Whereas a single case of identity theft from a single network may not arouse suspicion, multiple ones from the same phone might set off red flags. GeoComply has built-in alerts that enable the company to detect unusual activity. There is not a plausible scenario for 50 separate accounts to use one phone, Slader explains.
With a wide range of sportsbook clients in several states, GeoComply is also able to monitor customer activity across multiple apps. Theoretically, if an identity theft scheme is being carried out across nearly a dozen mobile apps in New Jersey, GeoComply may be a valuable source for law enforcement agencies. Just as geotracking devices are becoming increasingly vital for financial crime investigations, GeoComply may eventually corner the market for mobile sports betting.
The decision on whether to suspend a user's account ultimately lies with the operator, Slader noted. GeoComply is not privy to figures regarding the number of users whose betting activities are restricted by participating sportsbooks, she added.
Depending on bettor volume, GeoComply receives anywhere from two cents to four cents from sports betting operators each time it conducts a geolocation check. Though GeoComply has held discussions with several states that are still considering sports betting, as well as potential clients that may operate in new jurisdictions, the geotracking company is constantly pushing itself to develop technologies for unique environments such as the one in Oregon.
"We need to get more creative with our technology and how it fits new use cases," Slader said.